Here are the most beautiful thin black women in the world that I know of who are also famous enough to be in the Wikipedia. Just my opinion, of course. This is a work in progress. I am open to suggestions.
Just where the line between thin and thick falls is a matter of judgement. I left off women who were close cases.
1. Vilayna Lasalle is an American swimsuit model and video vixen. Her face is perfect. She is part Brazilian and Louisiana Creole. More.
2. Jill Marie Jones (1975- ) is an American actress. She starred in the television show "Girlfriends" and was once a cheerleader for the Dallas Cowboys. I cannot take my eyes off her. More.
3. Naomi Campbell (1970- ) is a British supermodel from the 1990s. A great face and great legs. Somehow I never get tired of looking at her. More.
4. Sade (1959- ) is a Nigerian-born British singer from the 1980s. She has that otherworldly look, like a princess from a storybook.  More.
5. Beverly Peele was an American supermodel from the 1990s. I only saw a few pictures of her on the Internet back then, but she was great! More.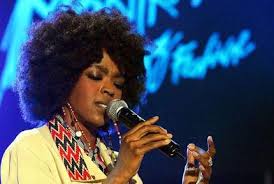 6. Lauryn Hill (1975- ) is an American singer from the 1990s. She was part of the Fugees and then later sang on her own. In 1998 she came out with "The Miseducation of Lauryn Hill".
7. Ildi Silva (1982- ) is a Brazilian television actress from Bahia. She was discovered on the streets of Salvador and became a model. She says that in Brazil she is seen as neither black nor white. According to the BBC she is one-fifth African by blood and one-tenth native Indian. Her green eyes are Dutch. More.
8. YaYa Da Costa (1982- ) is an American model and actress. She came in second in 2004 on season three of Tyra Banks's "America's Next Top Model". She beat Toccara Jones but lost to Eva Pigford. She is part Brazilian. More.
9. Bre Scullark (1985- ) is an American fashion model. In 2005 she came in third place on season five of "America's Next Top Model". More.
10. Rojane Fradique (1986- ) is a Brazilian fashion model from Bahia. She is tall (1.82 metres), extremely thin but looks like a work of art. In 2003 she placed second in Brazil in the Elite Model Look contest and 15th worldwide. More.
Of all my posts on this blog the one about thick black women gets the most comments by far. There I said I liked thick women more than thin ones. All things being equal, that is true. But in most cases all things are not equal and, as it turns out, a woman's eyes, not her figure, matter to me more when it comes to physical beauty.
I think thin women are beautiful too. Proof of that is that I have written about nine of these women and their beauty already. The first two are on my list of the ten most beautiful women in the world – of any shape or any colour.
See also:
Lists of beautiful black women: