Here are the black women I most admire. This is very much a work in progress – I am sure there are some I am forgetting! It is limited only to those famous enough to have their own page in the Wikipedia.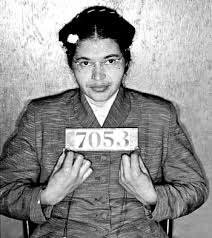 1. Rosa Parks (1913-2005) was an American seamstress. I admire her for her courage in not giving up her seat on the bus to a white person and so changing my life for the better and that of millions.
2. Billie Holiday (1915-1959) was an American jazz singer of the 1940s and 1950s. The way she put her broken heart into her songs so that you could feel it helps me to know that I am not alone, that life is not as advertised on television, that it is more important to be truthful than to paste a smiley face over everything.

3. Aqualtune (1600s) was an African princess who found herself standing in an ox cart with her former subjects being sold as a slave in Recife, Brazil. She escaped to help lead a black kingdom deep in the woods of Brazil. Her two sons went on to fight the Dutch and the Portuguese. I admire her for her courage and dignity, never letting cruel fate break her heart or make her forget that she was a princess.
4. Angela Davis (1944- ) is a black thinker who fights for equality for all. To accept American society the way it is would mean accepting that she as a black person is less than fully human, so she works to change it.
5. Lorraine Hansberry (1930-1965) was an American writer, the first black woman to write a Broadway play, "A Raisin in the Sun" (1957).

6. Michelle Obama (1964- ) is now the first lady of America!!! I admire her for conducting herself with grace and dignity, countering the stereotypes that many people have of black women. I also admire her courage to say what she did about her pride in America.
7. Dorothy Dandridge (1922-1965) was an American actress from the 1950s. She led the way for all the black actresses that we have today.  It is hard not to admire how she held up as long as she did under the tragedy of her short life.
8. Cicely Tyson (1933- ) is an American actress. I admire her for only taking parts that show black women in a good light. That means she barely works, but that is what makes it an act of courage.
9. Condoleezza Rice (1954- ) was the first black woman to be Secretary of State, the American foreign minister. History will judge her part in President Bush's foreign policy, but regardless of how that turns out, I admire her for her faith in freedom and democracy, for her grace under trying circumstances and for always doing what she felt was right no matter what other people thought of her.

10. Jamaica Kincaid (1949- ) is an American writer who was born in Antigua in the West Indies. I admire her for her writing style and for stating the truth that others would prefer not to hear.

– Abagond, 2009.
See also:
more on the women themselves: